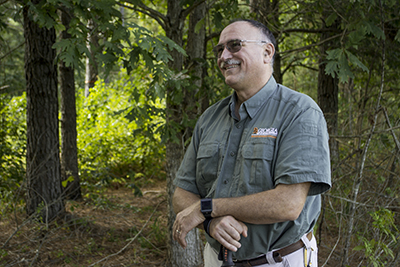 Welcome to Georgia Birding and Wildlife Trails, a program of Georgia DNR's Wildlife Resources Division. These trails offer a network of sites that showcase our state's fascinating natural and cultural resources. They also provide opportunities to see wildlife across a variety of landscapes while promoting outdoor recreation and wildlife conservation.
Promoting outdoor recreation and wildlife conservation is part of our mission at the Wildlife Resources Division. But it is important, too, for everyone in our state. Georgia's amazing diversity of animals, plants and habitats enhance the health of our environment and contribute to the production of much of our food and many of the products we use. This diversity also enriches our quality of life, our economic wellbeing, and even our cultural identity. More than 2 million people participate in wildlife viewing in Georgia annually, contributing nearly $2 billion to our economy.
The Birding and Wildlife Trails program involves a number of partners, including state and federal agencies, local governments, non-profits and private citizens. These partners are essential to making each site a great place to visit.
It is our hope that you enjoy exploring the trails. As you do, we think you will discover why we are Wild about Georgia!
Rusty Garrison
Director, Wildlife Resources Division