Want to support the trails and wildlife viewing in Georgia?
Donate Directly
Send checks payable to "Georgia Wildlife Conservation Fund" to: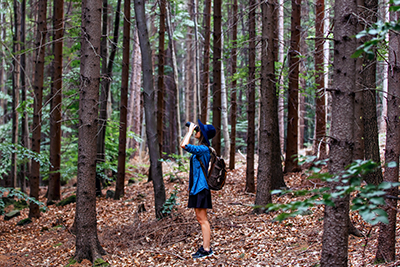 Georgia Wildlife Conservation Fund
c/o Wildlife Conservation Section
2067 U.S. Highway 278 SE
Social Circle, GA 30025
Donations are tax deductible to the extent allowed by law.
For more information: Wildlife Conservation Fund, (706) 557-3303 or michelle.mclaurin@dnr.ga.gov.
Donate Online
Donate to the Georgia Wildlife Conservation Fund at https://gooutdoorsgeorgia.com. Donors new to the license/permit system will need to click "Licenses and Permits" and create a customer account.
Contributions are critical to restoring and protecting Georgia's rare and other wildlife not legally fished for or hunted, plus rare plant species and natural habitats. This work also benefits game animals and helps provide lands for outdoor recreation.
State Income Tax Checkoff
Give by filling in an amount of $1 or more on line 31 of Georgia's long income tax form (Form 500) or line 10 of the short form (Form 500EZ). Contributions go to the Wildlife Conservation Fund. Every contribution helps. Created in 1989, the Give Wildlife a Chance checkoff has averaged more than $300,000 a year, benefiting conservation of gopher tortoises, cerulean warblers, smooth purple coneflowers and other species. State income tax forms and e-filing details are available online at http://dor.georgia.gov/taxes.
Every dollar counts. And thanks to the generosity of Georgians, the checkoff has raised more than $7 million since it was created in 1989. Contributions played a part in many conservation achievements, varying from the restoration of bald eagle populations to land acquisitions available for public recreation such as Silver Lake Wildlife Management Area near Bainbridge and thousands of acres of prime wildlife habitat along the Altamaha River in southeastern Georgia.
For more information, call Wildlife Conservation Section offices in Social Circle (770-761-3035), Forsyth (478-994-1438) or Brunswick (912-264-7218).